Keeping a clean kitchen is a must for every restaurant owner. A neatly tidy and clean kitchen won't make your food taste better, but your staff will feel good there and your food preparation will become more hygienic, which indirectly invites your customers to come back!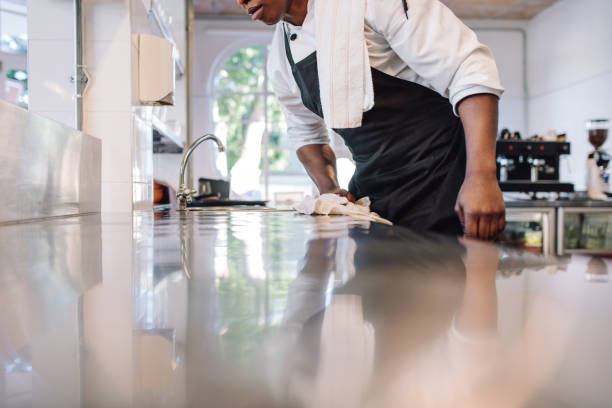 Wash the dishes
When washing pots and dishes, it is very important to be thorough. Customers notice even the smallest stain on the plates served, so use an effective fat-burning product such as Fairy.
This dishwashing liquid is not only effective in removing grease, but it is also gentle on your hands. However, washing dishes regularly for long periods of time can make hands dry. Restaurant owners encourage their staff to use rubber gloves to prevent this.
With this solution, many kitchen workers find their hands are less irritated and they are more inclined to clean up. Another important tool to have in your kitchen is a good-quality sponge. Avoid using a poor-quality cloth or sponge as professional cleaning may not be as easy and quick.
Kitchen floor cleaning tips
Just like at home, the first step to effectively cleaning the floor is to begin by sweeping the surface. This step is then followed by cleaning with water and a flooring product. Some floor cleaning products work wonders when left on the floor for a short time to remove stains. Be sure to read your product's instructions for use.
Cleaning hard surfaces
Cleaning surfaces is like cleaning the floor. In the same way, first, wipe or vacuum the area. You can then use a liquid surface cleaner. We can do this for fridges, ovens, countertops or microwaves, and other hard surfaces in your kitchen. For tables, overhead units in your kitchen, and other surfaces that require extra hygiene, use disinfectants according to the product instructions for use.
If you're wondering which product to use to clean your surfaces, consider Fairy, it can be useful for hard surfaces such as walls, doors, and tables. Dilute * a few drops of Fairy in a spray bottle filled with water, lightly spray the surface then wipe with a damp towel or sponge. Then wipe with a dry cloth. Fairy is good at eliminating grease which, during cooking or eating, can splash on surfaces. Isn't that a quick and easy solution?
Garbage cleaning
Some restaurants don't think to regularly clean their trash cans, but we recommend you do so to maximize the hygiene and waste management of your establishment. This will help you avoid dirt buildup that can attract bugs and germs. To properly clean your trash cans, it is best to do it outside and use a disinfectant. Clean indoor and outdoor trash cans with a food-safe brush or scouring pad. Rinse with water. Then let the air dry before placing a bag in them to avoid bad smells.
Hand washing
Proper hand washing is very important to keep your restaurant clean and hygienic. We should instruct staff on the proper method of washing their hands and encourage to do so before and after preparing food, and even after cleaning and leaving the kitchen.
Make sure you have good quality soap placed at each sink, to prevent any risk of germs.
Rotation for cleaning (schedule)
A cleaning rotation, if not already in place in your kitchen, can be a great addition to your staff's way of working! Talk to your staff and your chef and see how housekeeping is currently distributed. From then on, you can establish a rotation by indicating the days of application of each task and by whom. This will promote fairness and equality in your business, as well as hygiene, which is a key element of success!
There are many other benefits of a clean restaurant besides reducing the risk of contamination and germ transmission. This will help you reduce the cost of maintaining your kitchen equipment (ovens, grills, microwaves, etc.). Finally, studies carried out in North America show that cleanliness is the criterion most sought after by customers in a restaurant, just after the quality of the food.
This means that cleaning is not only a "cost", but it also helps to generate revenue, as it is a great driver of customer satisfaction! Take our advice into account in your cleaning practices. Keep thinking and perfecting your business with inspiration from other online sources that are relevant and you will have a great work environment to be proud of. * Fairy enables good hygiene practices. If diluted, prepare Fairy Wash Solution using clean, previously heated water.