Why are more and more companies currently hiring cleaning companies? What are the advantages that we can derive from the intervention of these professional third parties within our company? Find out the answers below.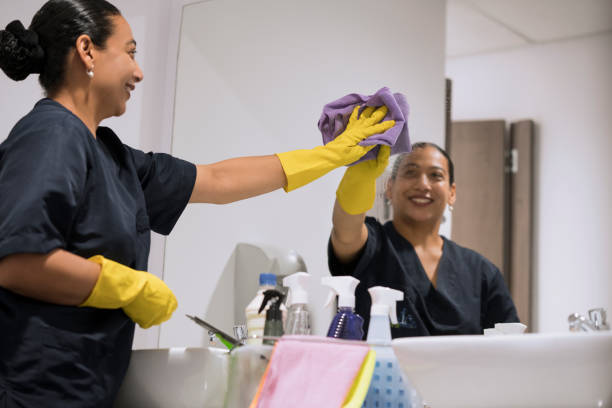 Improved employee productivity
Your employees are happiest when the workspace is fresh, clean, and free of dust and accumulated dirt. Although many companies understand the need for ongoing employee training and recognize that healthy company culture is important, very little thought can be given to the most important factor of productivity.
A safer and healthier work environment
The health of employees has become a subject of concern, more than ever. Many companies are interested in a more environmentally friendly operation, and this is by using so-called green products. The goal is to make workplaces safer to prevent toxins from triggering allergic reactions in employees. If you want your employees to be in perfect health, consider providing them with a clean and healthy environment at the same time!
Thorough cleaning of the hard-to-reach places
Your company's air ducts should be cleaned regularly to prevent pathogens. The procedure used for duct cleaning can vary. To completely extract allergens, bacteria, dust, dirt, mold, and debris, a state-of-the-art extraction system must be used. Removing all harmful contaminants annually can help keep business indoor air quality fresh, with the added benefit of lower energy costs.
A positive and professional appearance
Compare two ideas: walking into a business that has stained carpets, dusty desks, and trash overflowing with crumpled paper and takeout boxes, or walking into a business that looks spotless, smells fresh, and is obviously clean. Customer perception of your operation is crucial to your success. Therefore, investing in hiring a cleaning company such as SCS Group will allow you to maximize your return on investment.
Less cluttered and more spacious premises
When you hire a janitorial company to clean your premises, know that it helps reduce the clutter that accumulates in stairways, hallways, and other walking areas. These companies focus on keeping trash cans clean, rather than just replacing the liners, as well as the efficient removal of dust and dirt daily. Also, they have the materials to handle every spot, no matter what industry you're working in. Contact one of these companies to find out which formula is best suited to your situation?
Clean and tidy premises to motivate more
A cleaner workplace increases employee morale. They feel that the activities you engage in are important and will tend to dress more appropriately in a clean environment. Even a small business that is kept clean will see employee morale increase, and happier employees attract more business and do their jobs with more pride.
We must understand that the motivation of employees contributes to the development of the company and this in every way. They post their thoughts about the job on social media platforms, and these posts have a big impact on the ability to attract the talent you need to grow your business.
A long-term economy
If you clean your offices yourself, be aware that the person you are going to employ.  They will only carry out the most basic cleaning process, unlike a specialized company. Dust lingers on the tops of cabinets and shelves, on blinds, and in hard-to-reach areas. Fabric-covered furniture releases dust and odors.
Maintaining your office should include keeping furniture, shelves, desks, floors, and other areas free of dust, dirt, and contaminants. Indeed, cleaning carried out by a maintenance company. Makes it possible to prevent the carpets in your offices from becoming damaged and aging quickly, requiring their replacement. 
When your cleaning company in Sydney comes to your premises, they will offer you various maintenance options for more extensive repair and cleaning services should the need arise. Working capital will be boosted as a result.